VOCATIONAL SCHOOLING HELPS TRAIN WORKFORCE
A modern vocational education system featuring internationalization and school-enterprise collaboration is taking shape in China's eastern coastal city of Qingdao.
The government of Qingdao has mapped out a long-term plan to boost vocational education, according to Deng Yunfeng, head of the city's education bureau.
He said it is very important to pay equal attention to vocational training and university education.
"An innovative country and the label of 'Made in China' require a large group of skilled workers," he said.
To answer that need, the city has made great efforts to strengthen international cooperation for vocational education, and has sent teachers to Germany to learn from that country's experience in nurturing skilled workers.
In 2014, a China-Germany cooperation base for vocational education was set up in Qingdao. It is the third of its kind in China, with the other two based in Shanghai and Chongqing.
Vocational schools in Qingdao have formed long-term cooperative ties with countries with advanced vocational training, including Germany, the United States, Canada and Australia.
More than 90 percent of vocational schools in the city have regular overseas exchange programs for both teachers and students.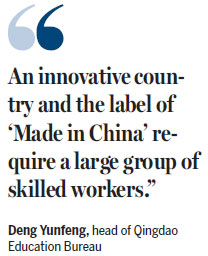 The city encourages vocational schools to cooperate with local companies to train students, a practice it calls "modern apprenticeships".
The modern apprenticeship, which requires students to work at businesses while studying at school, is a widely recognized vocational education system in many countries, especially developed countries.
At present, four local companies have set up training centers to enable students from vocational schools to learn from experienced workers. More such centers will be established by companies in Qingdao this year.
At the Qingdao City Management Professional School, students study in class for three days each week and work at a training center in a local business for another three days.
The students do not pay tuition to the center but can receive an average salary of 2,000 yuan ($323) each month from the business, which also offers employment after graduation, with a starting salary of 3,500 yuan per month.
The city has also implemented a "3 plus 4" pilot program, which consists of three-year's vocational education and four-year's college education, to cater to the employment market's need for skilled workers.
Three vocational schools and a college in the city were selected for the pilot program in 2013, and 140 students enrolled that year. The program was well received and the enrollment number more than doubled in 2014, with accounting, tourism and computer science the most popular majors.
In 2015, some new courses, including logistics management and jewelry design, were added to the curricula to meet demand from applicants.
Chen Wei, vice-president of Qingdao Electronic School, said the program gives students advantages in their future development.
"The three years' study at vocational school prepares students with practical skills, which lay a good foundation for their studies after going to college, as well as for their future careers," he said.
(China Daily 05/23/2015 page6)